EMI Troubleshooting for Design Engineers
Overview: EMI is generally thought of as the last hurdle in new product development, but can cause severe project delays and cost overruns if delayed to the end of the project. Compliance lab approval is one of the last things a design team needs before going to market, but EMI troubleshooting is considerably more efficient with a little care and forethought during active product development. RIGOL explains techniques and examples for staying ahead of EMI issues throughout the design process that help engineers to stay on budget and on schedule.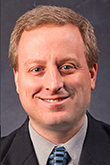 Speaker: Chris Armstrong
Chris Armstrong is the Director of Product Marketing & SW Applications at Rigol Technologies North America. Chris brings more than 15 years of experience in test & measurement from sensitive measurement applications to multipurpose benchtop test to integrating complete systems controlling instrumentation across a number of platforms. Chris has obtained a Bachelor of Science in Computer Science & Engineering from the University of Toledo and an MBA from Case Western Reserve University.
Slides are available to download within the On Demand webinar.