Expand Pre-compliance and RF Test Capabilities with the New Multi-function SIGLENT SVA1015 Analyzer
Overview:
Solving technical challenges in EMI can be a complicated process involving proficiency with different equipment and vendors. The new SIGLENT SVA1015X helps minimize test time by combining a swept superheterodyne spectrum analyzer with a two port VNA. The available Distance to Fault, EMI, and complex impedance measurement options provide more functionality at a lower cost than any other manufacturer in the industry.
Building off of the popular SIGLENT SSA3000X series, the SVA features an improved UI with new touch screen, mouse, and keyboard support.
This presentation will introduce the SVA and highlight some of the features that will help Engineers accomplish more with their time.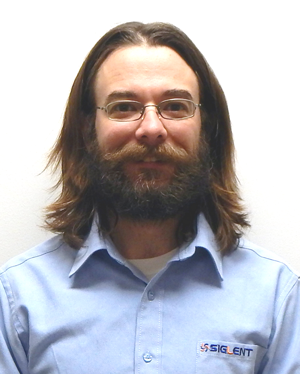 Jason has over 17 years of experience in test and measurement and has seen a little bit of everything.. from nanoamps to gigahertz. He is still amazed at how many things do and don't work as expected. His primary role at SIGLENT is to help customers get the gear they need to excel.
He graduated with a B.S. in Physics from Kent State University and is dedicated to helping.