EMC Simulation for Automotive Ethernet
Overview:
The demand for high speed data transmission between electronic systems in modern vehicles has experienced a dramatic increase over the past years. The current generation of infotainment and ADAS systems already requires high data rates that are projected to grow even further in the future, fueled by trends like the upcoming introduction of connected and autonomous vehicles.
BroadR-Reach® is a point-to-point Ethernet Physical Layer standard for automotive applications, allowing full-duplex communication between two devices over an unshielded twisted-wire pair (UTP) at 100 Mb/s, with plans to further increase it to 1000 Mb/s. Unshielded twisted cables are lightweight and cost effective, but they make compliance of the BroadR-Reach® Ethernet with automotive EMC requirements a challenging task. The high data rates and the cable layout can pose significant challenges on designers of automotive electronics. Reliability and safety are of utmost importance, thus potential EMC issues are absolutely critical to assess early in the design process.
This eSeminar will present simulations of EMC related aspects of the automotive Ethernet: the effect of the PCB layout on the emission from an automotive Ethernet channel, crosstalk from the automotive Ethernet channel to other cables inside one harness, and susceptibility of the channel based on the BCI testing method.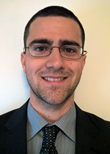 Patrick DeRoy is a senior application engineer and market development manager for EMC. DeRoy provides technical support and engineering services to customers, collects their feedback and drives growth efforts and further development of CST's EMC simulation solutions. DeRoy began work as an application engineer with CST of America in 2012. He received his B.S. and M.S. degrees in electrical and computer engineering from UMass Amherst in 2012, investigating cable modeling and specifically shield transfer impedance modeling, correlating simulation and measurement results. DeRoy's interests range from emissions and immunity of electronics at the component and subsystem level to RF interference and platform level electromagnetic environmental effects.