Sponsored By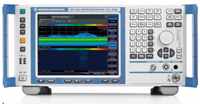 The R&S®FSVR combines a full-featured signal and spectrum analyzer with a real-time spectrum analyzer. Therefore, it provides all the capabilities and features that modern T&M instruments of this kind have to offer. In real-time operation, the R&S®FSVR seamlessly measures and displays the spectrum in the time domain with a span of up to 40 MHz. As a result, it captures every event for analysis, no matter how brief that event might be.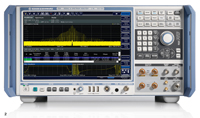 The high-performance R&S®FSW signal and spectrum analyzer was developed to meet demanding customer requirements. Offering low phase noise, wide analysis bandwidth and straightforward and intuitive operation, the analyzer makes measurements fast and easy.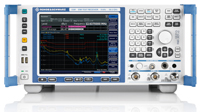 The R&S®ESR is an EMI test receiver for the frequency range from 10 Hz to 26.5 GHz and complies with the CISPR 16-1-1 standard. It measures electromagnetic disturbances with the conventional stepped frequency scan or – at an extremely high speed – with an FFT-based time domain scan. At the same time, the R&S®ESR functions as a full-featured, powerful signal and spectrum analyzer for lab applications. Featuring real-time spectrum analysis capability with a wide range of diagnostic tools, the test receiver also enables detailed analysis of disturbance signals and their history. The R&S®ESR comes with clearly structured menus and an intuitive touchscreen, making it very easy to operate in any mode.

Setting up an EMS/EMI test system is a very complex process requiring significant investment. The steps involved include custom planning, design, installation and configuration of various components and standalone instruments as well as the RF-shielded anechoic chamber. Rohde & Schwarz is now offering the standardized R&S®CEMS100 test platform that is the company's first flexible, reliable and cost-effective off-the-shelf solution for radiated EMS measurements in line with IEC/EN 61000-4-3.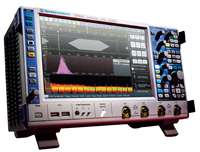 In the basic configuration, R&S®RTO oscilloscopes offer 50 Msample acquisition memory per channel. Applications such as seamless acquisition of long pulse or protocol sequences often require even deeper memory. The R&S®RTO oscilloscopes' acquisition memory can be extended up to 2 Gsample. Signal processing in the ASIC ensures a smooth workflow even with deep memory.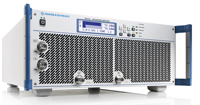 Excellent amplifiers from 9 kHz to 6 GHz with high power density. The R&S®BBA150 broadband amplifier family generates power in the frequency range from 9 kHz to 6 GHz. The compact amplifiers are rugged and feature high availability.

The R&S®BBL200 broadband amplifiers are ideal for applications requiring high RF power. The R&S®BBL200 broadband amplifiers generate 3 kW, 5 kW and 10 kW of power in a frequency range from 9 kHz to 225 MHz. They are liquid-cooled, solidstate, highly rugged, quiet and efficient. Precise monitoring of all runtime parameters ensures maximum robustness and reliability.
Additional Industries We Serve:
About:
For more than 80 years, Rohde & Schwarz has stood for quality, precision and innovation in all fields of wireless communications. The privately owned company is strategically based on five pillars: test and measurement, broadcast and media, secure communications, cybersecurity, radio-monitoring and radiolocation. The electronics group, headquartered in Munich (Germany), has a global presence and is among the world market leaders in all of its business fields.
Rohde & Schwarz USA, Inc.
6821 Benjamin Franklin Drive, Columbia, MD 21046
Phone +1 410 910-7800 | Fax +1 410 910-7849
Rohde & Schwarz USA, Inc. | Central Regional Office
(Systems & EMI Products)
1500 Lakeside Parkway Suite 100 | Flower Mound, Texas 75028
Phone +1 469 713-5300 | Fax +1 469 713-5301
Rohde & Schwarz USA, Inc. | Western Regional Office
7700 Irvine Center Drive Suite 100 | Irvine, CA 92618
Phone +1 949 885-7000 | Fax +1 949 885-7001